Last night, the death of movie producer and philanthropist Steve Bing was made official by friends and family. The man "fell" to his death from the 27th floor of an apartment building in Century City, Los Angeles. "We responded to a call around 1 p.m. regarding the death of a man. The 55-year-old lived at the 40-floor luxury apartment complex called Ten Thousand. This is the only information we have at this time," said Captain Gisselle Espinoza, LAPD spokeswoman.
The always suspect TMZ claims sources connected to Bing said: "He had been depressed about lack of human contact during quarantine. We don't know if that's behind the suicide." The way they are trying to spin this on COVID-19 is not going to fly, especially after you read this piece. His close peers offered condolences via Twitter: Bill Clinton, Elizabeth Hurley, and Mick Jagger among them. It turns out Bing had something in common with these 3 people: They all went to Jeffrey Epstein's island.
Parting from that alone, I can say with certainty that this case cannot be slam-dunked as suicide. Bing was worth around $590 million at the time of his death. Qui Bono? Who else went to Epstein's island? "In April 2012, Bing joined the Giving Pledge, established by Bill Gates, Melinda Gates, and Warren Buffett in 2010. Multi-millionaires and billionaires pledge to donate most of their wealth to charity during their lifetimes via their programs." Nefarious characters who are also involved with Berkshire-Hathaway, the Epstein scandal, and multiple scams, including Covid-19.
Where did his money come from?
Bing founded Shangri-La Entertainment focused on property, construction, entertainment, and music. His parents: Helen, a nurse, and Peter Bing, a doctor in public health. Peter Bing worked on public health issues for the Lyndon Johnson White House before relocating to Los Angeles. At the age of 18, his son Steve inherited $600 million from his grandfather, Leo S. Bing. The real estate developer made his fortune in New York in the 1920s and gave the young Steve a boost.
Bing dropped out of Stanford University in his junior year to pursue a career in Hollywood. Before he finished high school at the Harvard-Westlake School, Bing had already co-written his first screenplay titled "Missing in Action." It was made into a Chuck Norris film and spawned a sequel. Bing invested $80 million in The Polar Express, an animated film featuring Tom Hanks. The film earned $285 million globally and was one of the top box office successes in 2004.
He was also the financier of Robert Zemeckis' Beowulf and also the producer/financier of Shine A Light, a Rolling Stones concert film directed by Martin Scorsese. Bing also financed and produced the independently released Jerry Lee Lewis album Last Man Standing. He also co-wrote both the screenplay and the story of Kangaroo Jack (2003). In the early 1990s, extravagant Bing checked into the Hotel Bel-Air for one night and stayed for nine years.
Dark coincidences: Deceased actor/musician Isaac Kappy denounced Hanks, Clinton, and Bing as pedophiles. Kappy "forced himself out of a bridge," was Bing forced out of that 27th-floor balcony as well? Considering his list of friends and dubious past, I think the LAPD should hold their horses.
Big roller and backer…
Bing contributed $10.7million to the Democratic Party in total. The big checks were written in 2002 when he gave $8.2 million to the DNC. He also donated to Al Gore, Hillary Clinton, John Kerry, Nancy Pelosi, and Dianne Feinstein. Bing gave $49.5 million in 2006 in support of Proposition 87, a California initiative that sought oil production taxes. On December 18, 2008, the Clinton Foundation released a list of all contributors. It included Bing, who gave up to $25million.
On August 5, 2009, American reporters Laura Ling and Euna Lee returned to America after serving 5 months in jail and hard labor. Both skipped a 12-year sentence for illegally entering North Korean territory "thanks" to Bill Clinton. A 737 private aircraft owned by Bing was used for the return as he covered the $200,000 mission cost. The "rescue" is said to have been a cheap PR stunt by Clinton. Do the names of the reporters sound familiar to you? These are the same women who appeared in an image inside the Podesta emails leaked by Wikileaks in 2015.
On it, you can see them feasting on pizza along with an unidentified little girl. The email was sent to Huma Abedin, John Podesta, and Clinton's closest advisors. Bing was also paying $2.5 million a year to the Clinton Foundation to be an "advisor" to the former president. They also shared women: Elizabeth Hurley, Naomi Campbell, and Sharon Stone all dated both men. Hurley and Campbell were listed in the Epstein flight logs and Naomi was very active as a procurer of victims and clients…
The "Lolita Express" and the "Air Fuck One"
Shouldn't the payments be the other way around? The guy who needs advice should be paying for the advisor. It's alleged Bing "bought" his way into politics via the Clinton family. That alone makes his suicide highly suspect. Months ago, word began seeping through Democratic circles that Bing was no longer a go-to source for money. It doesn't seem his fortune diminished a big deal. Was he about to talk? Was there a sealed indictment waiting for him?
"Former President Bill Clinton is 61 years old and had a quadruple bypass in 2004, so he probably should not be partying at all hours with people like Steve Bing and "secret Radar" owner Ron Burkle. But, as the new Vanity Fair says, he's still globe-trotting with this pack of zillionaires with odd and scandalous lives. Clinton is attending a wedding along with Burkle – the supermarket magnate who helped make post-presidential Bill Clinton a wealthy man. Burkle was with a girl who another guest described as not much older than 19 if she was that. Clinton flew in on the private jet of real-estate heir Steve Bing…"
The Clinton-Bing connection includes being friends of convicted pedophile supplier Jeffrey Epstein. "Back then, as a cocky, petite, ink-stained wretch, I wasn't one of the young women in Manhattan whom Epstein and his friends approached for relationships, one-night stands, or abuse. But I was surrounded by a lot of them. Several names came up when they were around: Epstein, supermarket magnate Ron Burkle, film financier Steve Bing, and former president Bill Clinton, then in the prime of his postpresidential career and flying around on the Lolita Express, or Burkle's jet, dubbed Air Fuck One…"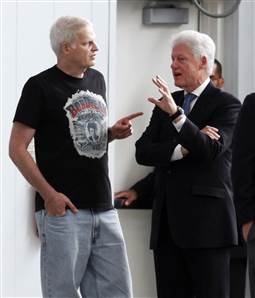 Tumultuous family life
"I loved Steve Bing very much. He had a big heart, and he was willing to do anything he could for the people and causes he believed in. I will miss him and his enthusiasm more than I can say, and I hope he's finally found peace." Were Clinton's words for his friend. Elizabeth Hurley added: "I'm saddened beyond belief that Steve is no longer with us. Our time together was very happy and although there were some tough times, the memories of a sweet, kind man are what matter. We became close again in the last year and last spoke on our son's 18th. This is devastating news."
Bing was forced into the spotlight over his relationship with Elizabeth Hurley. Damian, an 18-year-old boy was born out of wedlock as a product of the affair. Hurley met Bing in 2000, after ending her 13-year relationship with Hugh Grant. They attended an Elton John concert and reportedly reconnected soon after. When the paternity claim arrived Bing issued a statement saying that they had not been in an exclusive relationship and that it was "her choice to be a single mother." A DNA test proved otherwise in 2001.
In the same year, Bing faced another paternity suit from professional tennis player Lisa Bonder. "Bonder claimed Kira's father was billionaire Kirk Kerkorian, to whom she was married for 28 days, but he hired a private detective to prove otherwise." Bing sued billionaire Kirk Kerkorian for invasion of privacy alleging Kerkorian's private investigators took dental floss out of his trash to collect DNA. Bing and Kerkorian settled their dispute out of court after that.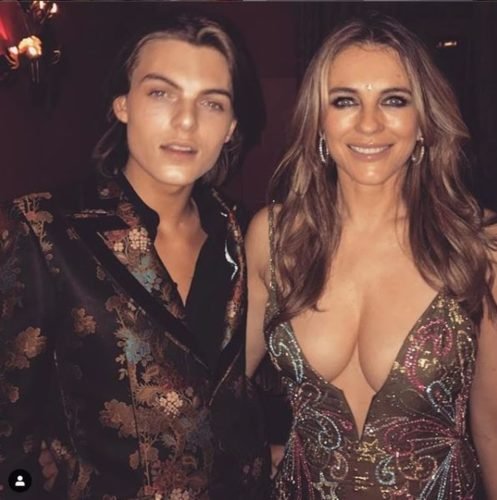 Bing + Epstein + Clinton + Burkle + Kerkorian
Ron Burkle's involvement with the Beverly Hills firm Patriot Management is suspect. "Patriot Management represents over 45 artists, songwriters, and producers. Patriot's roster includes Pharrell Williams, OneRepublic, Charlie Puth, Backstreet Boys, Soundgarden, the Estate of Chris Cornell, and more." One of his best partners is the gatekeeper, Ashton Kutcher.
Kirk Kerkorian, leader of the Armenian mafia in the US was the owner of the MGM hotels. By the time Kerkorian died, he had transferred his MGM holdings to Jim Murren and Eric Esrailian (Cornell's family doctor, and Geffen's lackey via UCLA). Chris Cornell was killed at the MGM Grand in Detroit, Michigan. There's evidence of a coverup by the mafia-owned hotel. Kerkorian financed The Promise, a film exposing the Armenian genocide in which Christian Bale acted and Chris Cornell sang for the soundtrack. Guess who was a producer? Eric Esrailian. The Armenian mafia protects the Kardashians and the members of System of a Down (who are all Armenian).
Serj Tankian and SOAD are all up to date on what happened to Chris and Chester. Guitar player Daron Malakian has no qualms about sporting pedophilia symbols on his tattoos and guitar. Coincidentally, he worked side by side with Chester and Linkin Park. Who else worked with Linkin Park? Bill Clinton gave the band a $1million grant to Mike Shinoda so he could fund the SRS recycling center in Haiti. Steve Bing not only was close friends with Brad Pitt and Sean Penn, but he was also one of the driving forces to coerce Graydon Carter not to publish a piece on Jeffrey Epstein (and Ghislaine Maxwell) written by John Connolly for Vanity Fair. Small world…