The arrest of a Queens man on gun charges two years ago has led federal authorities to discover a Satanic pedophile extortion cult that targets minors over the internet. Investigators uncovered the group, named 764 while going over disturbing social media posts made by Angel Almeida, 23, who was arrested in November 2021 and charged with being a convicted felon in possession of a firearm, according to court documents. In February, Brooklyn federal prosecutors announced they had filed a superseding indictment against Almeida, adding charges related to child exploitation and enticement of minors.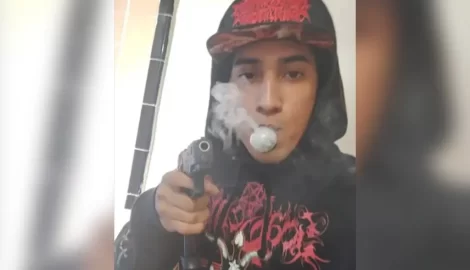 Before Almeida's arrest, the FBI followed anonymous tips that allegedly linked him to social media accounts containing vile posts about child sex abuse. This included one Instagram profile, "@necropedocell," that featured a photo of what appeared to be a child bound and gagged. A post on another of Almeida's alleged Instagram profiles showed him posing with ammunition strapped to his chest in front of a black flag bearing the logo of the Order of Nine Angels (O9A), which prosecutors described as "a worldwide Satanist group that embraces elements of neo-Nazism and white supremacy." Interestingly enough, the perpetrator is clearly Hispanic.
This Satanic left-hand path occultist group, based in the United Kingdom, was established in the 1960s. it rose to public recognition in the early 1980s, attracting attention for its neo-Nazi ideology and activism. Describing its approach as "Traditional Satanism", it has also been identified as exhibiting Hermetic and modern Pagan elements in its beliefs. According to the Order's own claims, it was established in the Welsh Marches of Western England during the late 1960s by a woman who had previously been involved in a secretive cult in the region. This account also states that in 1973, a man named "Anton Long" was initiated into the group, subsequently becoming its grand master.
Several academic commentators to have studied the ONA express the view that the name "Anton Long" is probably the pseudonym of the British neo-Nazi activist David Myatt, although Myatt has denied that this is the case. When authorities searched Almeida's home, they allegedly found hundreds of files containing child sex abuse material on four different devices as well as books related to O9A and Satanism, according to court documents. They also found a "blood covenant," an O9A drawing of a hooded figure surrounded by the group's symbols and smeared with what appears to be blood, the filings state.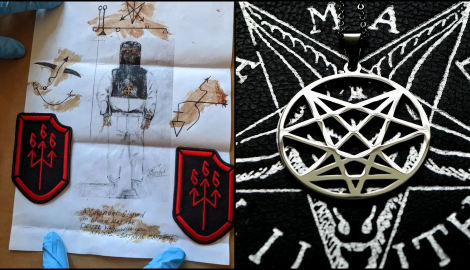 On September 12th, the FBI issued a public notice about 764, a violent online group deliberately targeting minors on publicly available messaging platforms to extort them into recording or livestreaming acts of self-harm and producing child sexual abuse material. Sources claim the cult is believed to be an offshoot of O9A and that law enforcement discovered the group through the investigation in Almeida's case. Members of "764" use threats, blackmail, and manipulation to get vulnerable youth to record acts of self-harm, animal abuse, sex acts, and suicide, the FBI warning states.
Platforms like Roblox, Discord, Twitch, Telegram and Soundcloud. The 764 Satanic cult already made headlines in Europe: A German teen accused of killing his Romanian foster family was a suspected member. The teenager had swastika and "764" tattoos, as well as "necro" inked on his forearm (the same word Almeida used in one of his Instagram usernames). In addition to possession of child sexual abuse material, Almeida is accused of attempting to lure two underage girls into sexual activity. He allegedly targeted one of them to produce and disseminate child sex abuse material, the February indictment reads.
You get to watch hundreds of exclusive videos by SUBSCRIBING plus access to our PDF library. Join the FORUM and WATCH the free episodes available for each series. Follow us on:
X (Twitter) Instagram Telegram Rumble Odysee BitChute YouTube