Last week, the deaths of three current and one former LA Sheriff's Department employees by "suicide" within 24 hours prompted a plea for police staff to check on the wellbeing of colleagues. Veteran commander Darren Harris (56) was found dead in his home in Santa Clarita at 10:30 a.m. on Monday, November 6th. Harris was formerly the spokesman for the Santa Clarita Valley Sheriff's Station, promoted to lieutenant at the Sheriff's Information Bureau, and then Captain at Transportation Services. Anonymous sources told the LA Times that Mr. Harris died from a self-inflicted gunshot wound to the head, but the department did not confirm the reports.
Authorities then reportedly found the body of retired Sergeant Greg Hovland (67) at his Quartz Hill home hours later at 12:53 pm. The long-time sergeant who patrolled Antelope Valley died from a gunshot wound to the chest. The third suicide was at 5:40 p.m. in Stevenson Ranch: Corina Thompson (60), a custody assistant at North County Correctional Facility Pitchess Detention Center, also died of a "self-inflicted gunshot wound to the chest." The fourth victim was found on Tuesday morning at around 7:30 a.m. in Duarte and worked in custody at the same Correctional Facility as the third casualty. The unnamed employee, believed to be Andrea Burish (40) was found unresponsive at home and pronounced dead at a hospital in Pomona, California.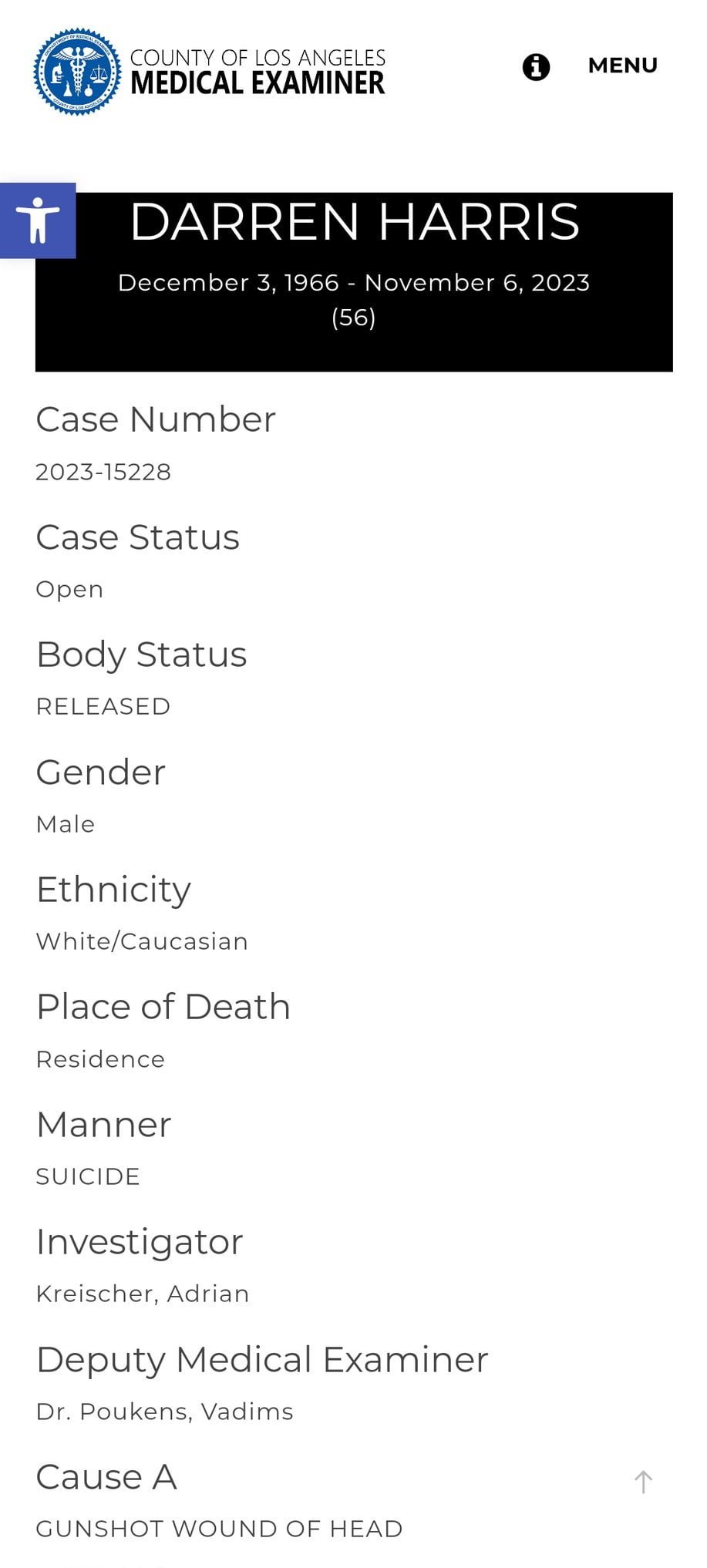 The wife of the fourth victim allegedly confronted Luna and the Chief of Custody Division, Sergio Aloma, at the hospital, blaming the demands of an under-supported and understaffed department for her husband's death. As expected, strong reactions began to surface on social media by department personnel feeling the effects of the suicides and what has been a very long, dark year at LASD. According to sources, Luna was "visibly shaken" at the news of the suicides while confronted directly by some personnel as he was called a "phony" by multiple members of the department, even openly admitting himself: "I know everyone thinks I am."
The first suicide of 2023 was deputy Jonathan Buchan, 33, who died of a self-inflicted gunshot wound shortly before 2:00 a.m. on January 20th, a little over a month after Robert Luna was sworn in as 34th Sheriff of LA County. The sheriff is no stranger to suicides occurring under his watch, according to one retired Long Beach Police Department member who posted on social media shortly after the LASD suicides last week. "We had 5 suicides on his watch at Long Beach Sheriff's Department as well, 3 officers, a retired Sargeant, and a civilian employee. Horrible." In 2020, 116 police officers died by suicide in the United States, while 113 died in the line of duty, a figure increasing to 150 by 2021.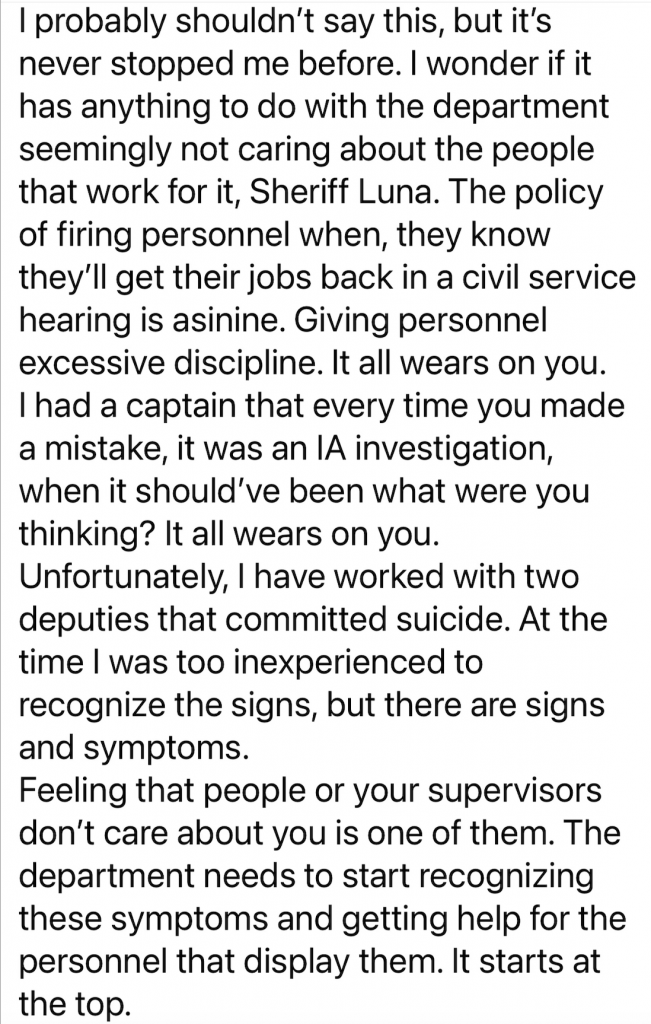 The accumulative stress factors for law enforcement personnel hit an alarming level in the United States in 2020 with the terrorist George Floyd riots leading to the defunding of the police movement. LA County saw additional pushback with a hiring freeze placed on the department by the Board of Supervisors, harshly affecting the department. They are now down 1400 officers, forcing current personnel to work mandatory overtime shifts, which decreases the department's morale under Luna's leadership. Add all this to the recent revelation of the true nature of Luna's relationship with District Attorney George Gascon (a mentorship that goes back 20 years), which was relatively unknown to LASD personnel until recently.
This critical information significantly impacted public safety in Los Angeles County and was kept from voters during Luna's campaign for his current role. In 2022, Gascon was already two years into his strategic destruction of law and order with his pro-criminal directives amid a second voter recall. Sheriff Robert Luna said in a statement on Tuesday, November 7th that the department was 'beyond saddened to learn of the deaths'. It is unknown if the officers knew each other or what links they may have had, but the fact they were all in a couple-mile radius in 24 hours seems suspicious, especially considering the pervasive corruption in the city.