Before his death, Michael Hutchence was involved in a legal battle with Bob Geldof, the singer of the Boomtown Rats. This feud started when Paula Yates divorced Geldof in 1996 and started seeing the INXS's frontman. About a year later, Michael was found dead in a hotel room. Yates suggested that Geldof was involved in the murder, quoting threats made by him as "Don't forget, Im above the law." Michael's case is very complicated for this short series, but I'll give you a briefing. The INXS album, Elegantly Wasted, was released in April 1997, and INXS went on a world tour to promote it…
Australia was the location for the tour's final leg. However, on the morning of November 22nd, 37-year-old Michael Hutchence was found dead in room #524 at the Ritz-Carlton hotel in Double Bay, Sydney. The New South Wales Coroner determined that Hutchence's death was the result of suicide. "An analysis report of the deceased's blood indicates the presence of alcohol, cocaine, Prozac, and other prescription drugs. The deceased was severely depressed due to several factors. Including his relationship with Paula Yates and the pressure of the ongoing dispute with Sir Robert Geldof.
This combined with the effects of the substances that he ingested at that time. As indicated, I am satisfied that the deceased intended and did take his own life." Michael allegedly hanged himself with his snakeskin belt but left no suicide note. In 1999, in a paid interview with "60 Minutes" in opposition to her previous statement, Yates claimed that his death could have resulted from autoerotic asphyxiation. LIES. She was threatened and later killed. Geldof is no stranger to personal tragedies, as his daughter Peaches also passed under strange circumstances.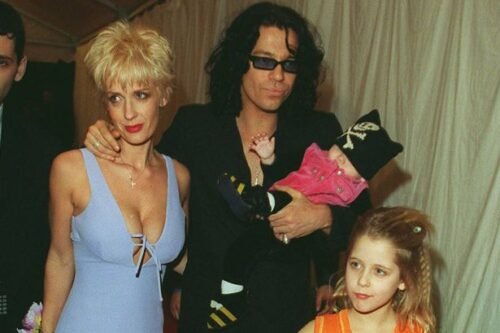 Elegantly wasted
Michael's body was discovered by a hotel maid, ten minutes before noon. He was in a kneeling position facing the door, and his black leather belt tied a knot on the automatic closure at the top of the door. Sounds familiar? The occupant in the next room overheard Michael arguing loudly with someone after 5 a.m. Did the singer threaten Geldof by revealing some of his O.T.O. secrets to use them in court and win the custody of his baby? Paula Yates's police statement reported that Michael Hutchence was "frightened and couldn't stand a minute more without his baby."
Kym Wilson and her then-boyfriend Andrew Reyment were the last people to see Michael alive as they left him at 4:50 A.M. He was still awaiting a phone call from London concerning whether Yates would be able to bring his daughter to Australia. Michael Hutchence's last outgoing phone calls were to his manager, Martha Troup, and his former long-time girlfriend, Michele Bennett, who stated that Hutchence was crying, tired, and said he needed to see her. Bennett arrived at his door soon after, but there was no answer.
Alex Constantine contends in his book "The Covert War Against Rock" that the singer's body had injuries. "A broken hand, a split lip, and lacerations" that support the theory it was murder. On November 27th, 1997, Michael Hutchence's coffin was carried out of St. Andrew's Cathedral by members of the band, Bono, and his younger brother Rhett. Bono of the rock band U2 was a good friend but even better friend of Geldof. U2's singer may have had a part in keeping tabs on what Hutchence knew and what he was planning so Geldof could act promptly.