Peaches Geldof was a British socialité who died under mysterious circumstances. The public accepted the official story, but there's much more about this case. Starting with what Peaches was up to before her untimely passing. Remember Ian Watkins? The singer for the band Lostprophets? The monster got sentenced to 35 years for a string of child sex offenses, including the attempted rape of a baby. Watkins, who was 36 at the time, pleaded guilty to 13 child sex offenses.
His two co-defendants, who are the mothers of children he abused, were jailed for 14 and 17 years. Peaches Geldof, known as the "British Paris Hilton," was involved in denouncing the case. In two messages posted on Twitter, the Attorney General's office wrote: "We understand the names of the co-defendants in the Ian Watkins case were posted online. Victims of sex offenses have lifetime anonymity. Publication of info which could identify them is a criminal offense and a police matter."
Peaches Geldof's attempt to expose the procurers – silenced by law enforcement. Victims? What a joke. Peaches was the daughter of Bob Geldof, singer of the Boomtown Rats, a mediocre band. I have no idea how Geldof made his $30million, but maybe something to do with his "philanthropy." In 2013 Peaches began to express interest in the Ordo Templi Orientis secret society, describing it as "a belief system to apply to day-to-day life to attain peacefulness." She had the initials O.T.O. on her left forearm and an inverted cross inked on her back.
Ordo Templi Orientis
April 7, 2014: Peaches Geldof is found dead at the age of twenty-five, at her home in Kent. Three months later, coroner Roger Hatch smeared Peaches saying she started using heroin again in February, after taking the substitute drug methadone for two and a half years to stay clean. "At the time of the tragedy, Kent Police said the death was sudden and unexplained." Peaches' husband, Thomas Cohen, told the inquest he had seen her flushing drugs down the toilet.
Peaches was clean for her children's sake, and when she learned the O.T.O. practices rituals involving sex with children, she went rogue and wanted out. "Police found heroin and syringes in the house. A forensic scientist said the drug had a purity of 61 percent – much higher than the average drug sold on the street. "A pathologist said Peaches' blood contained a high level of heroin, along with traces of codeine, methadone, and morphine. There were puncture marks on her arms and legs." Both Bob Geldof and Ian Watkins are high ranking members of the secret society Peaches rebelled against.
It makes sense Peaches got silenced over going against a fellow member of the O.T.O. By exposing the names of the women who procured their children to Watkins, she endangered other high-ranking members who were also involved in the abuse. In most secret societies, treason is punished by death. She died about a year after announcing her initiation into the O.T.O., and her widower is still close to Geldof. They spend winter holidays together, along with his new girlfriend and friend of Peaches, model Daisy Lowe.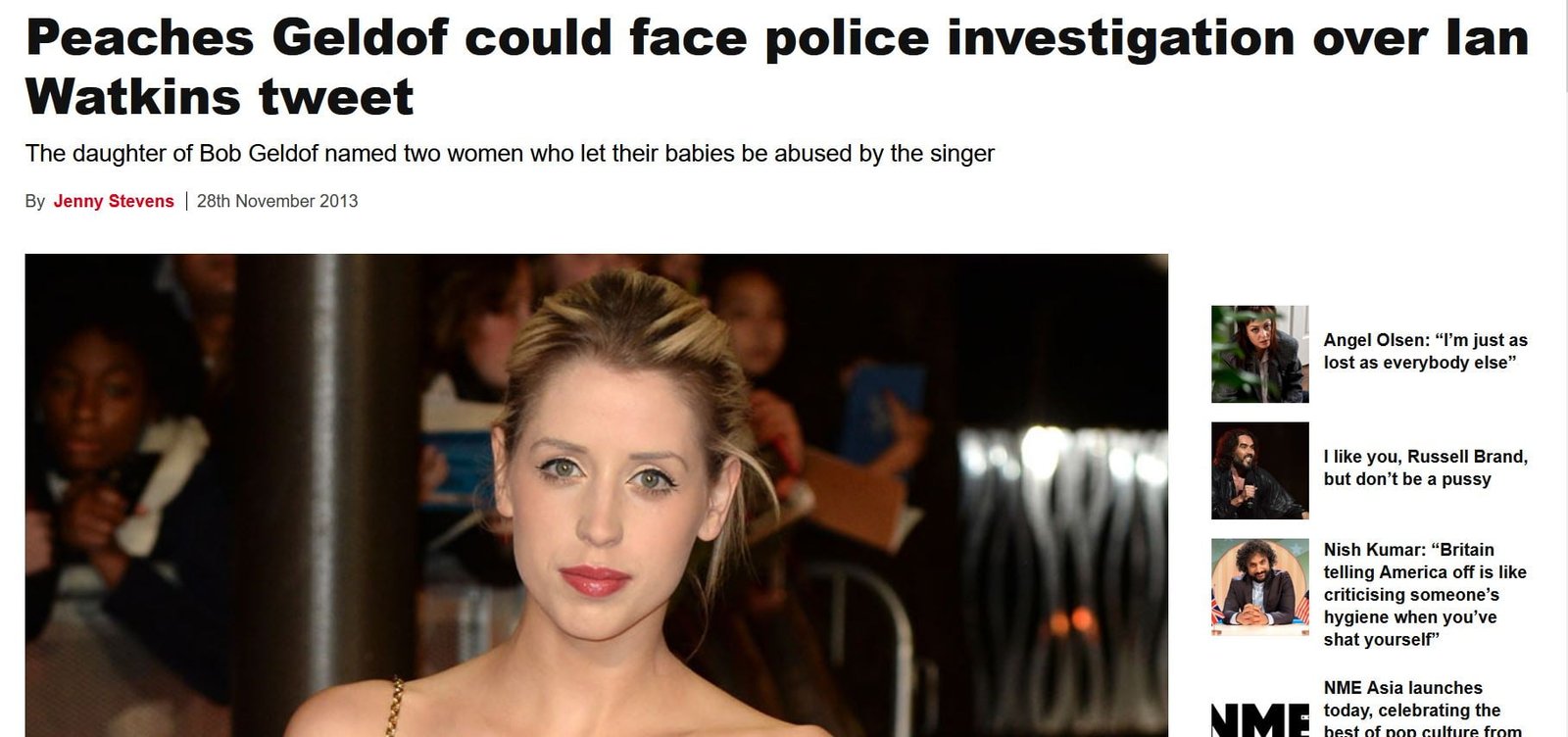 If you want to join Total Disclosure
And help this website, please consider subscribing to the podcast My aim is to become a self-sufficient mainstream media network with integrity. There is also merchandise available with cool designs and lots of variety. While I understand it may be inconvenient, but due to the nature of my work most standard donation channels are wary of us. You can donate by using PayPal via my GoGetFunding fundraiser. Please email me for a PayPal address or bank account – or you can donate directly using cryptocurrency. Follow me everywhere! Here is my linktree.
The Total Disclosure Network is a 100% independent media outlet. I focus on exposing child sex trafficking, pedophilia, tyranny, high profile murders, and secret societies. Any person who uses mind control, child rape, blackmail, and other crimes to pull the strings from the shadows is due to be exposed. Please take some time to watch my most recent collaboration, Pervywood 8, a great piece of art directed by GoodLionTV. Louder Than Love is coming next.
CRYPTOCURRENCY
Bitcoin: 1BPxS6zfbG94HwmdNgS2m8rhrPrcdoosEY
Ethereum: 0x0e3776782E92B4924a799c3766A77ADC355e16C2
Litecoin: LfbTARZEJ6ELvucf2yhhu6Jjj7YXfzyQWw