Kate Spade was born Katherine Noel Brosnahan on December 24, 1962, in Kansas City, Missouri. She was the daughter of June Mullen and Francis Brosnahan, who were of Irish descent. Kate attended St. Teresa's Academy, an all-girl Catholic high school, and then the University of Kansas. She transferred to Arizona State University, where she graduated with a journalism degree in 1985. Kate joined the Kappa Kappa Gamma sorority while in college and was an above-average student.
She graduated in 1985 and spent the next six years working for Mademoiselle magazine in New York City. Kate earned the role of senior fashion editor – Fashion, she recalled later, was her love but not an obsession. While at Mademoiselle, she started living with Andy Spade, a native of Scottsdale, Arizona. The two had worked side-by-side as salespeople in a men's clothing store, Carter's Men Shop, while both lived in Phoenix. Kate's original goal was to become a television producer, but in 1991 she left the magazine and decided to go out on her own with a line of purses.
"It's funny. You know, Andy and I were talking one night at a Mexican restaurant. And I just said – I was looking ahead and I saw the fashion directors. That would be your next jump from being a senior fashion editor. I thought I don't really see myself wanting that job. And he just said, what about handbags? I said, honey, you just don't start a handbag company. And he said, why not? How hard can it be? I thought, OK, really? He regrets those words." Kate Spade noticed that the market lacked stylish and sensible handbags and decided to create her own brand.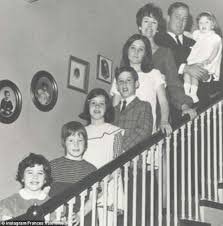 The Spade Brand
Kate and Andy Spade launched the New York-based design company "Kate Spade Handbags" in January 1993. "I wanted a functional bag that was sophisticated and had some style," she would recall. She made six prototypes with Scotch Tape and paper and found a manufacturer in East New York willing to work with a startup to turn them into bags. To finance the company, Andy, who had worked as a copywriter, withdrew his 401K pension plan. When times were rough, he paid employees with personal checks.
The couple lived at friends' apartments during shipping season because their home was full of boxed handbags. A year after launching the company, Kate and Andy were married. "At the time, things were very – bags were too complicated. I really loved simple architectural shapes. And I would wear these very simple shapes, none of which were famous designers. I mean, there were no names. If someone were to say, whose is that? I'd say, I don't know, I bought it at a vintage store, or it's a straw bag I got in Mexico."
Kate Spade was undecided as to what name to give the company because she and Andy had not yet married. "Kate Brosnahan" sounded like an unmarketable name for a fashion label. She considered several options but agreed when Andy suggested "Kate Spade" – a combination of her first name and his surname. After an early show at the Javits Center at which the department-store chain Barneys ordered a few bags, Spade decided to put the bag's labels on the outside, a change that took her all night to alter but established the brand.
Fame and success
The bags, priced in the US$150 to $450 range, quickly became popular, particularly in New York. Teenagers with disposable income appreciated the affordability of the lower-end bags. That was "a real shift" in fashion, said Fern Mallis, director of the Council of Fashion Designers of America (CFDA) during the 1990s. "Everybody had Kate Spade bags. You could afford them, and happily buy more than one." Three years in, the couple was able to open their first store.
By 1998, Kate and Andy had one of the most successful brands in fashion. A year later, in 1999, Neiman Marcus purchased 56% of the company (valued at $23million at the time). After the sale, the couple bought their Park Avenue palazzo, just a few blocks from Central Park. They also purchased a home on Main Street in Southampton in 1996 for $218,500, according to property records. The Group sold the label in 2006 to Liz Claiborne Inc. for $124 million but broke all records on a later sale. In May 2017, Spade was purchased by "Coach Inc." for $ 2.4 billion, and both companies are now under Tapestry Inc.
In 2002, Spade entered the very lucrative fragrance market, teaming up with Estee Lauder. The company released bath and body products as well as a honeysuckle fragrance. In 2004, "Kate Spade at Home" was launched as a home collection brand. It featured bedding, bath items, china, wallpaper, and various items for the home. Later that year, Kate published three books on the subjects of etiquette, entertainment, and fashion, "Manners, Occasions, and Style." That same year, a Kate Spade store opened in Tokyo, Japan.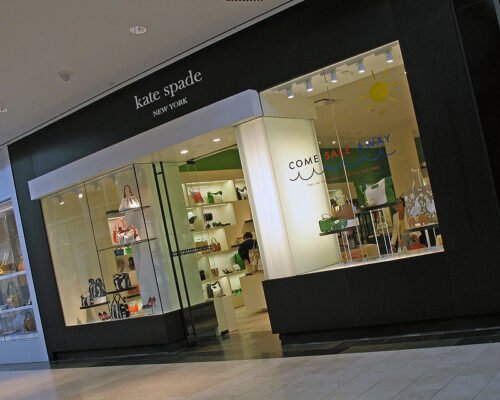 Life and death
Kate Spade sold the remaining 44% of her company by 2006. Her focus at the time was on raising her daughter, Frances Beatrix, born in 2005. Kate spent the next few years being a mom, out of the spotlight. In 2016, she and her business partners, including Elyce Arons (Palm Beach, Florida), launched a new collection. Branded luxury footwear and handbags under the name Frances Valentine, a well-thought-out name. They took no investors and focused on slowly rolling out the brand in select markets.
Frances is a family name on Spade's paternal side; her grandfather, father, and brother use it. Her daughter is named Frances, even though they nicknamed her "Bea" due to her middle name. "Valentine" came from Spade's maternal side; it was her grandfather's middle name – he was born on Valentine's Day. In 2016, Kate legally added Valentine to her full name. The line sold at Nordstrom, Saks, and Bloomingdales. Kate Spade was honored by the Council of Fashion Designers of America twice. In 1996, as an emerging accessories designer to watch, and then in 1998 as the best accessories designer of the year.
55-year-old Kate Spade was murdered on June 5, 2018, in her apartment located in New York City. Bella, the housekeeper, found Kate inside her Park Avenue apartment in Manhattan at about 10:20 a.m. She was hanging from her room's doorknob by a red scarf and allegedly left a letter to her daughter. It read: "Bea – I have always loved you. This is not your fault. Ask Daddy!" A police source said that before her suicide, Andy Spade had asked his wife for a divorce and moved into a nearby apartment.
Stranger things
Bella said Kate was like a best friend to her, and she even had a $475 shoe in the Frances Valentine line named after her. Kate's alleged suicide shocked investigators due to its eerily similar circumstances to the "suicide" of L'Wren Scott. In 2014, the fellow fashion designer also was found hanging from a doorknob by a red scarf. Scott was married twice, to Andrew Ladsky and Anthony Brand. She dated singer Mick Jagger (Rolling Stones) and billionaire banker Nat Rothschild, on and off.
"Weird, this is the same way L'Wren Scott killed herself. I wonder if it was intentionally done this way," a police source said. But this is not the only strange "coincidence," three days after Kate was found, celebrity chef Anthony Bourdain also was found hanging from his bathrobe belt. A day after that, Queen Maxima's sister, Ines Zorreguieta, also was found hanging from a doorknob with a red scarf. Let me get this straight, these three notorious people died in the same week, in the exact same way? Very unlikely ways to die, by the way.
Strangulation is a favorite execution method for the Illuminati as it aims to warn others and expose traitors. The ritual goes back to when Julius Caesar had Vincengetorix strangled so he could then become the Roman Emperor. When they hang you from a doorknob, it points to a Saturnalian Cult sacrifice ritual. Saturnalia was an excessive ancient Roman festival in honor of the god Saturn, held from December 17th to December 23rd. Was Kate ready to denounce something macabre? She was killed "in 3's" before Ines and Anthony. These murders are all connected, that much is obvious by now.
Suspects and accomplices
Just like in the cases of Chris Cornell, Chester Bennington, and Anthony Bourdain, Kate's significant other is suspect. Andy Spade was spotted walking down the street with a creepy mouse mask the day after his wife died. It symbolized a rat – A word commonly used as slang for a snitch, a narc, or a traitor. Just like Kate did when she was hanging, the mask sported a red scarf. Andy's posts on Instagram are full of occult references and even hint at the grooming of their daughter, Beatrix. The mask Andy Spade wore belongs to the Disney character "Bernard," from the movie The Rescuers.
The film is about a kidnapped girl in a plot that also involves retrieving the "Devil's Eye." The world's largest diamond is hidden at a place called the "Devil's Bayou." It's possible the people who decided Kate's fate forced Andy to wear the mask. The mask symbolizes surrender and compliance with what happened to his wife, but it could also be a humiliation ritual. Sources say David and Andy Spade are involved in a child sex trafficking ring with Tom Hanks and Jeffrey Epstein. Kate's daughter had become a target, which is why she was ready to speak out.
Allegedly, suspects included Bea's school personnel and fellow parents. Kate's sister, Reta Saffo, believes she planned to kill herself for a while. "She didn't receive the proper care for what I believed to be bipolar disorder." However, if you look at the web archives, there is no mention of Kate's depression anywhere before her death. Their brother, Earl Brosnahan, revealed to the Times that Saffo has been estranged from the family for years and only spoke with Kate. He described her comments as "grossly inaccurate."