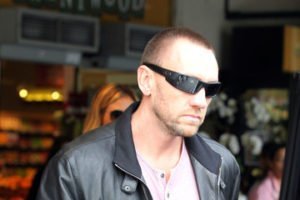 One of the main protagonists during our investigation, Chris Cornell's bodyguard and the last man who would see him alive. His dubious past, absent integrity, and botched statements evidence a lot of "confusion" on how things unfolded that night. The man has been extremely elusive ever since Chris passed away. It's standard procedure, the last person to see the victim alive always becomes a person of interest. When you add all the inconsistencies and the personal history of Mr. Kirsten, it's a no brainer.
Let's expose the mystery man…
According to official records, Martin Craig Kirsten was born on September 26, 1972. He has criminal records in Orange County, CA (2004, 2007 and 2019) and Los Angeles, CA (2002). Currently residing in Long Beach, CA (since 2013), Kirsten appears as owner and employee of two companies in California. The company that appears INACTIVE (Physique International Incorporated) is delinquent as far as taxes go.
His active company, Battalion Protection Group, consists of a team of mercenaries who participate in a number of different activities. Some as basic as personal security, others not so innocent such as a military contractor for corrupt governments and people. Basically a mercenary disguised as a professional stand up guy, curiously, he appears as the only employee.
Kirsten seems to be very comfortable financially speaking, he owns five vehicles at this moment: A Range-rover Land-rover, an Audi A8, a Ford F150, a Cadillac Escalade, and a BMW M6. Please note two of those vehicles were bought months after Chris passed away. Did somebody get a bonus? He also has properties (and leases) in Huntington Beach, Santa Monica and Los Angeles, California.
Ties to the Mossad terrorist organization…
Born in South Africa, sources state Kirsten spent time in Australia and Israel. Rumors have been circulating that he has links with Mossad (Israeli Intelligence), more specifically the Kidon Bayonet division. It seems as like he skipped some classes since he botched Chris Cornell's crime scene.
Kidon bayonet is an elite assassination unit based in Caesarea (one of Mossad's eight departments). An affluent privately owned town in northern Israel founded and owned by a branch of the Rothschild family. It recruits from "former soldiers from the elite IDF special force units."
This unit has been a part of Israel's policy of assassinations for decades. According to Ronen Bergman, Israel used this policy more than any other country in the West since WWII, carrying out at least 2700 missions. A terrorist organization basically, Mossad believes ANY crime is justified if it benefits Israel's agenda.
… And "the Deep State"
The "Institute for Intelligence and Special Operations" is the national intelligence agency of Israel, popularly known as Mossad. It's one of the main entities in the Israeli Intelligence Community, along with Aman (military intelligence) and Shin Bet (internal security). Mossad is responsible for "intelligence collections, covert operations, and counterterrorism".
Mossad is separate from Israel's institutions because no law defines its purpose, objectives, roles, missions, powers or budget. This is dangerous as the agency it's exempt from the constitutional laws of Israel which is often described as "the deep state".
Its director answers only to the Prime Minister. Its annual budget is estimated to be around 10 billion shekels ($2.73 billion) and it's estimated that it employs around 7,000 people. It stands as the second-largest espionage agency in the Western world, after the American CIA.
Mossad was formed on December 13, 1949, as the Central Institute for Coordination at the recommendation of PM David Ben-Gurion to Reuven Shiloah. Ben-Gurion wanted a central body to coordinate and improve cooperation between the existing security services. In March 1951 it was reorganized and made part of the prime minister's office, reporting only to him.
Netanyahu, The Maxwells, Epstein, and blackmail…
Much has been said about the role Mossad plays in the U.S.A. foreign policy decision making. Robert Maxwell, Ghislaine Maxwell, and Jeffrey Epstein worked for Mossad blackmailing American/British politicians, moguls & celebrities to expand their control over the Middle East and else.
Essentially, Mossad is involved in human and organ trafficking via different hubs worldwide. If you do some research you'll find an increasing amount of Israelis arrested worldwide due to these crimes (Including my home country of Costa Rica).
All too relevant since we know Chris Cornell, Chester Bennington, Anthony Bourdain, Avicii, and Leroi Moore were collaborating on a documentary called "the Silent Children". The film, directed by Lisa Beane (Moore's fiancee) was set to expose elite human and organ trafficking rings worldwide. Countries like Turkey, Romania, Thailand and Cambodia were featured in the official trailer.
The silent children then, the silenced people of today
Chris was the main financial backer, Chester was working on the soundtrack, Anthony was the narrator of the film, Avicii was working on the soundtrack as well and was the hookup with Ines Zorreguieta (Queen Maxima's sister who discovered a huge blackmail pedophile video library).
Zorreguieta's father worked under the fascist Jorge Videla in Argentina, a regime accused of disappearing more than 20,000 "dissidents". Current "Pope Francis" Jorge Bergoglio was an enabler for the kidnaps, torture, rapes, and murder. Evidence of this was sent to Avicii and Chris Cornell.
It's worth mentioning all the famous people working on the Silent Children had their experiences and first-hand knowledge of similar crimes committed by people close to them. It's the nature of the business, Hollywood insiders estimate around 75% of men in Hollywood are corrupted. While 40% of women are too, approximately.
Connections lie deep, but I don't want to wander outside Kirsten much. My point is those five men are now dead (Three by hanging under unbelievable circumstances, Ines Zorreguieta as well). What are the odds? Anthony also supported "Luminary Lane", Cornell's charity with Chester, Brad Pitt & Rick Rubin (the last two members of the Illuminati, and the ones alive today).
And off we go into the rabbit hole…
Knowing the connections the Clintons, the Podestas, David Geffen, Steven Spielberg, Harvey Weinstein & Adam Schiff have with Mossad and murders for hire, this exponentially verifies these artists were silenced over more than just money. The head of the MGM Grand (mafia owned hotel as our FBI source told us) and the Detroit Police Department are complicit.
If you think about it you'll realize that Vicky Karayiannis doesn't have that kind of pull. Neither does Talinda Bennington, Asia Argento or even Courtney Love (as resourceful as she is). Vicky wasn't the main schemer but she certainly was the nastiest backstabber.
The MGM Grand has links to David Geffen, Eric Esrailian (Cornell's family doctor and "The Promise" producer) is on the mainboard and just happens to work for the Geffen-UCLA School of Medicine. He also met Anthony Bourdain during a meeting with Chris Cornell, what did he hear and did he snitch?
… A shady past to say the least
Coming back to Kirsten, he was the bodyguard for Heidi Klum and her children for five years. Klum and Seal split up as the singer discovered Heidi was sleeping with Kirsten on his bed. The Victoria's Secret model filed for divorce citing "irreconcilable differences" and started dating Kirsten immediately.
After exposing this alleged cheating scandal, Seal told photographers, "I guess you now all have the answer that you've been looking for for the past seven months". Kirsten dated Klum from 2012 to 2014 and reportedly played the role of sugar mama following the breakup.
Klum bought her Kirsten a house for his mother in his home country of South Africa and gave him money in an effort to keep him quiet. Quiet about what? So, Kirsten broke a marriage with children just to blackmail Klum later; nice guy, huh? Sources say he got paid over $1million. Would you hire a man with this resume to protect Chris Cornell? Who hired him?
Things get dicey again, Klum was close to the Epstein inner circle: Naomi Campbell, Prince Andrew & Ghislaine Maxwell were her pals. To top it all Klum works for Mossad/MEGA group Victoria's Secret owner Leslie Wexner, who gave Epstein a mansion in New York for free! It is widely accepted the L Brands owner was Epstein's handler, it seems all roads lead to Epstein.
Saving Private Pedo!
It gets worst, Klum was also close with Tom Hanks and wife Rita Wilson. Rita is Toni Cornell's godmother and the couple can be seen partying with David Geffen at his yacht often. Brad Pitt was Geffen's boy toy when he first arrived in Hollywood, that's why he was pushed by the mogul and his friendship with Cornell is a reason to worry.
Tom Hanks was exposed as a pedophile by Isaac Kappy (RIP) and Sara Ruth Ashcraft, a woman who claims she was sold to the actor by her father when she was just 13 years old. Tom Hanks is a high-ranking member of the Illuminati and a 33º freemason, they are so blatant about their crimes he signals a lot of his crimes on social media.
Isaac Kappy was assassinated in 2019, thrown out of a bridge. Steven Spielberg, Tom Hanks and other unsavory characters are believed to be involved. The reason these people leave "crumbs" is because they believe in karmic cleansing by being hidden in plain sight. At the same time their egos rejoice by mocking all of us.
How many people denouncing child sex trafficking must die in weird circumstances before we open our eyes? There are hundreds of bodies worldwide, silenced while trying to expose this filth. We need to forward this information to most people willing to listen and change the collective perception.
Vicky & Kirsten sitting on a tree?
Do you think Kirsten sounds like the kind of guy who might, I don't know, try and sleep with Chris's wife, murder him by her initiative and then get paid a hefty sum for the deed by shallow gold digger Vicky Karayiannis and her screwed up family? Who knows? What does common sense tell you? Why was he hired?
Vicky decided to replace Leroy Michaux, Chris's previous bodyguard who was in service for several years and had a special connection with Chris's kids. He was present on many of Chris' solo tours and according to others' personal experiences & interactions with him, he was a professional & personable asset to the touring team. He loved Chris.
Vicky went as far as to hire deranged groupie Jessica Robbins and plant a (second) stalking incident so she could convince Chris they needed someone "more experienced" handling security. "2014 federal complaint against Robbins said Cornell and wife Vicky pulled their kids from public school out of fear of Robbins…". Fear of what? Did she boil a rabbit alive like Glen Close's character in Fatal Attraction?
"Rocker Chris Cornell was rescued from a stalker by Heidi Klum's ex-beau & bodyguard, Kirsten, Page Six has exclusively learned. Sources said obsessed Cornell fan Jessica Robbins planned to propose to the rocker onstage before being arrested at the Louisville Palace."
The attacks on Seattle continue
Vicky hired Kirsten, not Peter (Chris' brother), she controlled Chris's every move, he was her prisoner and money machine, nothing else. Their ever-changing lies and the slandering of Peter and his girlfriend Amy makes it more obvious. Vicky's mom Toni has hinted that Kirsten was responsible.
Maybe they had a falling out (snake eats snake), or maybe its a strategy to further muddle the waters. I spoke with Jessica Robbins myself and I have to tell you, the way she replied to me makes me think she's bought and paid for by Vicky. I have studied Vicky's behavior so much I recognize her stamp on any press release, Jessica's replies to all look taken out of a Vicky PR statement. You can find her on Instagram if you are curious.
Always research the wives and bodyguards, rule of thumb! They are often selected and appointed as handlers by the people trying to control certain celebs. It was a very similar situation with Kurt Cobain and Courtney Love, Anthony Bourdain and Asia Argento, Chester Bennington and Talinda, etc.
What about Chester's bodyguard?
Let's take a quick look at Ed Majcina, Linkin Park's last tour bodyguard for Chester Bennington and Mike Shinoda. Like Kirstin, a military man and a professional mercenary; his links all connect with Jeffrey Epstein's human trafficking network. Ed Majcina was Lady Gaga's personal bodyguard for years (Gaga is involved with Marina Abramovic and James Franco).
Majcina is also close friends with sex abuser, photographer Terry Richardson. He was also the bodyguard for Robert DeNiro (questioned over a child sex trafficking case in France, linked to Jean Luc Brunel) and Steve Forbes (another mogul registered on Epstein's Lolita Express flight logs).
Furthermore, Majcina was present immediately after Chester was found at his Palos Verdes Estates, California residence. So Majcina just happened to be around and decided to crash the party to direct traffic? Or was his presence a consequence of something more sinister? You can see a video of Majcina at the crime scene on my YouTube channel:
The most unreliable witness EVER!
Most of what we know about Chris Cornell's death comes from Kirsten, we were told that he accompanied Chris to his room after the show. Kirsten was not only the last person to see Chris alive but also the person who discovered the body. It's very important for people to understand that almost everything we heard about Chris's death initially relied upon this man's testimony.
It's also worth noting that Detective Charles Weaver failed to interrogate Kirsten properly. You could argue this was due to laziness, or a desire to avoid getting involved in a controversy. I'm afraid once you add everything up and take into account the corruption affecting the Detroit Police Department, it seems Weaver might be dirty.
Kirsten never spoke to anyone ever since about the incident. Kirsten claimed Chris summoned because he needed help with his computer, after his last performance, why would Chris's priority be his computer? This very basic, simple question has yet to be answered. We are never told what he wanted to do, but it must have been pretty important!
Chris's reasons for needing a computer become even more critical if we assume he was already planning on hanging himself shortly after. All of this goes completely unexplained in the report, this was one of the first red flags indicating a media coverup. Details matter. This is one of the most important cases in the last 30 years, common detective Weaver!
A river of inconsistencies…
Detroit news altered this version of the story in a case "FAQ" (Frequently Asked Questions) released on July 21, 2017 (the day after Chester died). On the original publication they stated Chris summoned Kirsten to his room to have his computer fixed. Why did he need his computer so urgently if he was killing himself? He could have used his phone.
Later on switched for "Kirsten helped fix the singer's Apple TV and gave him two Ativan pills, according to the police report. Apple TV is NOT a computer, it's a device that you hook up to a monitor to stream videos online. If Kirsten was helping Chris he would know the difference, otherwise, why would Chris ask for his help? If he doesn't know the difference between the two devices, what kind of help could he possibly offer?
Perhaps detective Charles Weaver was just jotting a simplification of Kirsten's statements, which is NOT due process. Especially for such a high profile case, not to mention all the palpable crime scene inconsistencies found. These inconsistencies should be obvious for a seasoned officer like Weaver, with over 30 years of police work experience.
After thinking about it for a very long while, it occurs me Kirsten and Vicky didn't want people asking about the computer. The computer WAS NEVER mentioned in the police report, so is fair to assume Kirsten took it to his room before Weaver arrived. The reason is simple, because the computer contained the very same things Chris was aiming to expose.
Kirsten, a bodyguard, a babysitter or Dr. Feelgood?
If Chris had an Ativan prescription, why was Kirsten holding it for him? Chris was a grown man. Why was Kirsten responsible for delivering the dose? If Vicky assumed Chris took too much Ativan why isn't Kirsten being interrogated thoroughly on the exact circumstances of Chris' Ativan consumption that night? The public deserves an explanation.
If we are to believe all these stories on how "off" Chris was during his last show, wouldn't that had been noticeable by Kirsten, the band and the staff? His so-called bodyguard and "family friend" should've assessed his condition and avoid giving Chris another pill. Common sense.
Why did Chris take two times his normal dosage if his bodyguard was holding the pills? Let's add all that weirdness to the fact that Chris wasn't really fond of Kirsten and never trusted him. He even told some of his friends back in Seattle about Kirsten's erratic behavior, and how he was a bit afraid of him.
If Chris needed his computer fixed (my bad, his "APPLE TV") why would he take Ativan? If he had important things to do why would he want to be sleepy? What was so urgent? Checking the viewing history is easy & relevant since it was his last desired activity. DETAILS ARE IMPORTANT!
Poorly planned or poorly executed?
We've been fed some poorly planned garbage since day one, nothing makes sense. Not the timeline, the circumstances, the procedure or the crime scene. EVERYTHING WAS BOTCHED. That's why a lot of people are outraged! I don't this was poorly planned, I think something didn't go according to plan and they had to switch their narrative on the move. When that happens most people panic and step on their own toes, exactly like they did.
Supposedly at 11:35 p.m. Chris was on the phone w/his wife. "He was different," she said. "Chris was slurring words, sounded groggy and kept repeating: I'm just tired," according to Vicky's statements and police reports. "When he told me he may have taken an extra Ativan or two, I contacted security and asked that they check on him." She noticed over the phone, but "family friend" Kirsten couldn't tell in person?
Why does it sound like she's talking about a SECURITY TEAM instead of a "friend"? Conflicting statements by Vicky. Would you trust Kirsten's word knowing what we know about him? Knowing what we know about that night? I hope this opens your eyes. The hands photographed as "evidence" are not Kirsten's hands, those pictured have more finesse; Kirsten's hands are bigger and rougher.
So what does that tell you? Detective Charles Weaver is complicit. Listen, I'm not one of those people who trash police all the time BUT, considering the city this happened in; it's certainly a HUGE possibility. Detroit, Chicago, Los Angeles, Miami and Phoenix are examples of cities heavily tainted by corruption in law enforcement and the justice system.
Wide awake?
As you can see, this thread alone is more than enough to convince a few people to take a second look into Chris's demise (and others). Bear in mind this is just one segment of my film "Louder Than Love", roughly 5% of what we have to support our claims.
It's time for me to focus fully on Chris, Chester, Anthony, Kate, Inès, Avicii and the other martyrs for the next months. The film will be released in 2020 on social media for free, you can watch an extended preview:
[iframe src="https://www.bitchute.com/embed/1J8DzbNi0HXB/" width="100%" height="500″]
If you like my research please consider supporting my work via the PayPal links on this website. If you are a cryptocurrency aficionado I also accept Bitcoin, Ethereum, Litecoin, and all the top altcoins. Our podcast in on halt due to Patreon's corruption but we are working to bring a membership system on this website. Once set up you will be able to subscribe the same way you did before minus the middle man!