NOTE: This article was posted a few months ago on my Twitter and went viral. Those threads were deleted when I got de-platformed and will be reposted as I see fit. At this time the main priority is publishing the content on this website. The piece has been updated with new intel since those Tweets were published.
Isaac Kappy was an actor, writer, producer and indie musician. He gained notoriety when he decided to come out against the establishment by denouncing the prevalent pedophilia in Hollywood and the elites. Soon after he got black listed by friends and colleagues and never worked in the industry again.
He was born in Albuquerque, New Mexico and attended Sandia High School where he used to play basketball. Isaac participated in his school's concert band and was a classically trained violinist who also enjoyed singing and songwriting. This talent derived in Monster Paws, whose sound was described by the band as music that "sounds like yer winning something".
He had local success as the frontman along with bandmate Nathaniel James Reed, a.k.a. Nate Santa Maria. Monster Paws released several tracks and played in venues throughout Albuquerque (NM) and Los Angeles (CA). "We want to express pure joy in sound form. It's about getting over yourself and having a good time" Isaac explained.
A man of many talents…
Kappy and Reed hosted Baby Ketten Karaoke in Portland (OR) for years prior to their first album dropping in 2010. Their sold out album release party was the first time Monster Paws performed as a band in front of an audience. Though at one point you could access the entire album on Spotify and SoundCloud, it has since been removed.
A few of the tracks can still be found on Ourstage, and a handful of the band's videos can be viewed on YouTube. Music by Monster Paws was also featured on several television reality shows including Bad Girls Club, Real World: Las Vegas, and Khloe & Lamar. In addition to Monster Paws, Isaac formed another musical duo based in Los Angeles with Tom Sandoval. Charles McMansion first official video T.I.P. debuted in 2015 on the fourth season of Bravo's "Vanderpump Rules" finale.
Isaac began his acting career in 2006 with minor roles in films and television shows. His most memorable performance was in the 2011 action movie "Thor" part of the Marvel brand. Isaac also contributed to writing two short films in 2007, Time Cougars and The Surrogate. He appeared as an extra on the critically acclaimed TV show Breaking Bad. Isaac played a "rowdy prisoner" in the episode named 737.
An even lesser known talent Isaac mastered was carpentry. Isaac created much of his artwork over the years using wood. He also dabbled in digital artwork that he occasionally published on his Instagram.
Hollywood's whistleblower
In summer 2018, Isaac made headlines after posting a short Periscope stream calling his one-time close friend, Seth Green, a pedophile. In subsequent videos and interviews more accusations would follow, he denounced Seth's wife Clare Grant, and confirmed rumors on high profile people. Among those names: Steven Spielberg, Tom Hanks, Stephen King, James Gunn, David Geffen, and many others.
A few of Isaac's accusations came from personal experience, while others from testimonies child sex abuse survivors who confided in him. Among these there were child actors and Satanic Ritual Abuse (SRA) survivors. Virtually overnight, several Media Matters-backed publications linked him to Pizzagate and other "conspiracy theories".
A few days later, Isaac named other players part of an international child trafficking ring. "Look into the Rothschild family. The higher you go, the more sick it gets" Isaac told his followers. He mentioned the Bronfmans (NXIVM), Jimmy Savile, Macaulay Culkin, Oprah Winfrey, Harvey Weinstein, Marina Abramovic, and several others.
Isaac said Seth Green invited him to join the Illuminati in 2018, stating that he would be given $250,000 a year and any car that he wanted. This came after a dinner party between him, Seth Green and Claire Grant. Seth allegedly told Isaac that they "needed to talk about chicken", which is code word for young children.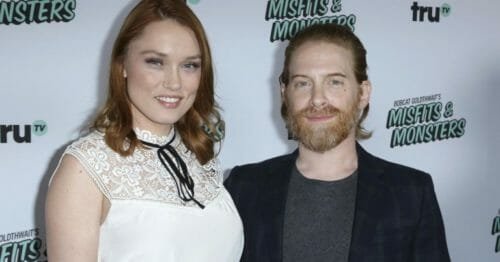 The "truther" movement
On July 30th, 2018, Isaac appeared on YouTube channel Lift The Veil owned by Nathan Stolpman. In the interview Isaac declared, "I don't care what they do to me. I'm willing to die over it." When asked if he had contacted the authorities about his allegations before coming forward, Isaac claimed that he had been leaking information to the NSA. He posted in the QAnon board on 8Chan, as well as leaving anonymous tips with DHS.
"I've had people that have actually seen the blackmail material for a lot of really big people" Isaac told Alex Jones during his interview on Infowars. Jones questioned Isaac on his knowledge of minors being present at certain Hollywood parties and tried to put him in the spot. Less than a week after Isaac's interview with Alex Jones, Infowars was deplatformed from Facebook, YouTube and iTunes.
On August 2, 2018, TMZ published an article claiming Isaac choked Paris Jackson – daughter of the late King of Pop, Michael Jackson. TMZ made the claimed that Paris was responsive to Isaac's texts after the incident because she was afraid of him being suicidal. They also reported Paris blocked Isaac's number, relocated and hired full time security for protection.
Enter Michael Whalen, an alleged Satanic Ritual Abuse (SRA) victim who was interviewed by Lift The Veil. Whalen, who goes by the nickname "Vegan Mikey," said he attended parties in Portland where he witnessed children being sex trafficked. Whalen alleges that at least one of the parties was at the home of Voodoo Doughnuts co-owner Trey Shannon.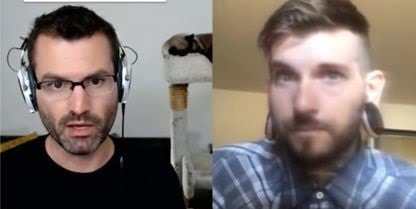 Survivor stories…
In an interview with Lift The Veil, a man by the name of Robert M. alleged similar abuse had been happening to children in his hometown of Auburn, Indiana. He said town leaders were complicit in covering up the abuse. Robert said he was physically abused by his father and later sexually abused by others who he claimed were part of a Satanic Cult.
Only a few days after Robert appeared on Lift The Veil, another citizen whose family attended the same church as Robert's family called in to corroborate Robert's story. In September, Isaac and Vegan Mikey recorded a video addressing the attacks by Gabe Hoffman from An Open Secret and the rumors that Mikey was a convicted felon.
Isaac was photographed at the 2018 Politicon conference with Laura Loomer and Media Matters mastermind David Brock. Soon after he skipped the country to spend a summer in Australia, hosted by the notorious SRA survivor Fiona Barnett. The duo got along at first but some problems would arise as Isaac began to act a bit erratically and associating with bad people. Among them, the blood diamond merchant Elaihi Priest, who allegedly paid for Isaac's plane ticket.
PART II HERE